Since I made my 2010 resolution to read a single comic book a day, I've ended up reading QUITE a bit of stuff. Some of it, you've already seen, as I reviewed it during the year (don't worry, links will be made available here too), but the rest, you can find here. We're still without a comic shop, but my husband has quite the collection, so other than the current on-going issues a friend of ours is picking up for us, I've got PLENTY to read.
Please note this is a mini-review of the issues I've read. Not each INDIVIDUAL issue, but rather, each series, and that doesn't include the graphic novels that I've already reviewed during the year. So, if you're interested, take a look at the comics that caught my eye this year, and why they're working or not working for this total non-expert comic book reader.
Also, I'm not including commentary of a completed series that I'm in the middle of reading, because next year, I plan on reviewing completed series as I finish them, not wait until the end of the year. This column, this time next year, will be for ongoing series ONLY, so we'll see how that works.
Oh, and the series you've got to wait for me to finish before I discuss it? The Dreaming.
*** = On Going Series
American Vampire
Issues 1-9***
Written by: Scott Snyder, Stephen King (1-6)
Illustrated by: Rafael Albuquerque
I'm torn on this series. The first six issues were actually quite decisive. Divided into two separate stories that related to each other by a single character, I found myself far more compelled by Snyder's half, which focused on Pearl, an actress trying to get her big break, only to have her plans completely shattered by vampires. The other half, penned by King, was the least interesting. Oh, I liked the world-building, learning about the vampires and what makes a particular vampire American, but there were several cheesy, cringe-worthy moments, one notable being when Skinner Sweet is screaming for CANDY!!! with in full vampire-face. Ugh. I was thrilled when issue 7 and beyond did not include King's name in the credits, but I'm finding I'm not fully invested in the stories. My husband and I are pretty close to making this a series we read in hardcover instead of individual issues. For me, it's not because the story is hard to follow (though it is easy to forget details between issues), but rather because due to the art, sometimes characters look a little too similar and I'm just not sure how I'm looking at on a given basis. That's frustrating.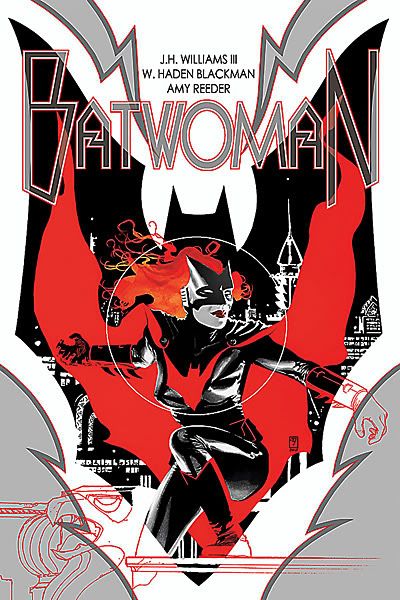 Batwoman
Issue 0***
Written by: J.H. Williams III & W. Haden Blackman
Illustrated by: J.H. Williams III and Amy Reeder with Richard Friend
There's not a whole lot to say about this that hasn't been said. The story is quite different from Batwoman: Elegy. Rather than give us the story through Batwoman's eyes, we're getting it through Batman's as he observes both Batwoman and Kate Kane in order to determine if they are indeed the same person and if Kane is worthy of the mantle. Some readers have a big problem with this, but for my buck, I'm fine with it, so long as it doesn't become a habit. Yes, you can go on a huge feminist diatribe about how rotten it is that Batwoman can only be validated for the readers from a male perspective (aka Batman's), but frankly, given some of the weirdness in Batwoman: Elegy, I liked the chance to be on the outside looking in. And since I also like Batman as a rule, I didn't mind the perspective. I think the issue is a decent (but not great) introduction to Batwoman's character, and with any luck, it'll inspire readers to check out the backstory in Batwoman: Elegy. I liked how the art was traded off too: Williams III doing Batwoman's scenes, with Amy Reeder doing Kate Kane's scenes. I kind of preferred her take on Kane to Williams's, but that's a personal thing. I think I'll be trying this series out when it's released in February. Or January. Or whenever it is.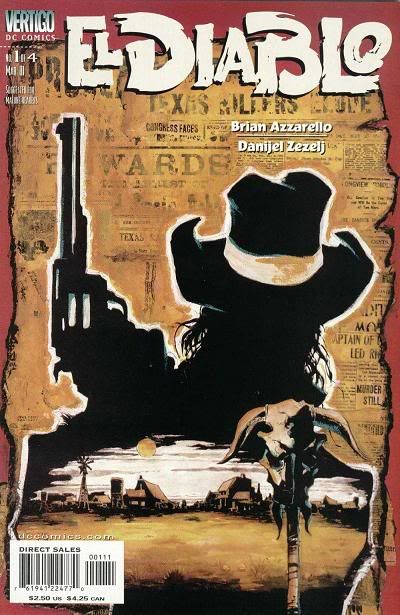 El Diablo
Issues 1-4
Written by: Brian Azzarello
Illustrated by: Daniel Zezelj
My hubby handed me this mini-series after I requested reading more from Azzarello. It also worked out that this came after we finished watching Deadwood, so I was in the Western-ish frame of mind. The tale told here is an interesting one, but a bit of a psychological mindfreak. Two questions are raised at the run's end, and while I think I have the answers, I can't be sure. But if my interpretations are right, I love the sense of irony to the tale, though that irony kind of throws the title of the series (and the thing they hunt) into question, in a good way. The kind of way that makes you want to re-read the series just to see if you can learn anything new.
The Girl Who Would Be Death
Issues 1-4
Written by: Caitlin R. Kiernan
Illustrated by: Dean Ormston
This is an excellent mini-series. Neil Gaiman's character of Death doesn't actually appear, but the story is the result of a cult worshipping Death and what happens because of it. Our title character finds Death's sigil and wants to use it to trap Death and force her to bring back a lost friend, but the sigil is killing her. There's also an appearance of Eblis O'Shaughnessy, the mudman created in the last Sandman books, and that's a great tie to the Endless, which are referenced a few times here (so is Burgess). At any rate, this is an EXCELLENT story and one I'd highly recommend, but not until you've read Sandman first, simply because you need to know who Death really is, as that's a layer that's important to the story, given the title character's perception of her.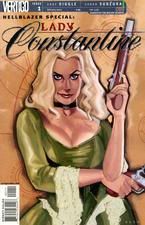 Hellblazer Special: Lady Constantine
Issues 1-4
Written by: Andy Diggle
Illustrated by: Goran Sudžuka
I worried about reading this, since at the time, I hadn't read Hellblazer. However, Lady Constantine showed up in The Sandman, so I felt comfortable reading this mini-series that details how Lady Constantine got her title back, how she learned about Morpheus's meeting with Hobb every 100 years, and saved the world from Pandora's Box. It's a good story, though the end is something of a downer that begs for MORE STORY, and to this date I'm not sure if there's another Lady Constantine mini series floating around out there or not. Does she ever save Mouse? How did she come to be in possession of Orpheus? Lots of questions I want answered, and really, the ending is a downer. Granted, making characters suffer is a good thing, but it's depressing if you don't see the other side of the suffering, which is the redemption.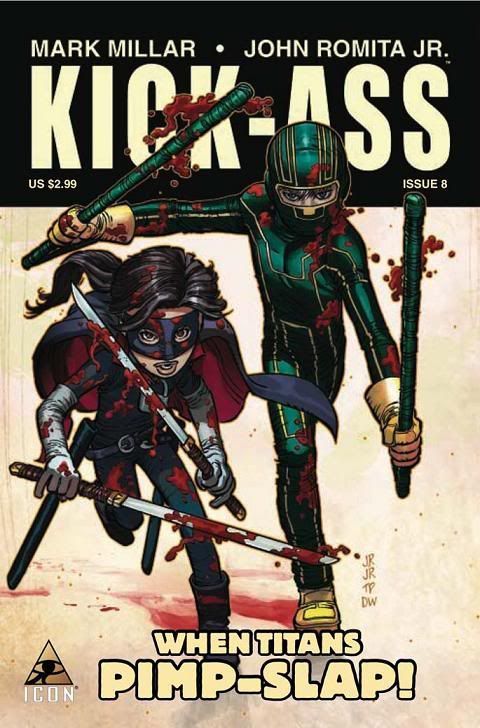 Kick-Ass
Issue 8
Written by: Mark Millar
Illustrated by: John Romita, Jr.
The final issue in the first KICK-ASS run, and thankfully, it came out with plenty of time to spare before the film adaptation was released. At any rate, it's a good, but startlingly violent conclusion. Yeah, I know, it's Kick-Ass, am I really surprised by the violence? No, but things happened I didn't expect, and the last panel of the book had be arguing with my husband about who it was (the hair threw me). Needless to say, Millar has clearly set up a sequel, which is good, because Dave needs a chance to redeem himself in various walks of his life. Love the resolution of Hit Girl though. I think she should get her own series.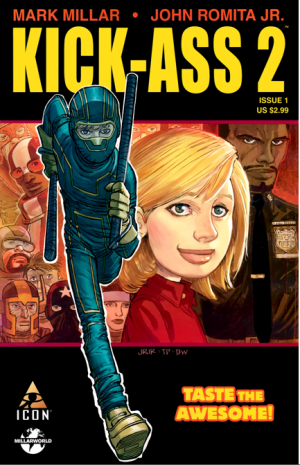 Kick-Ass 2
Issue 1***
Written by: Mark Millar
Illustrated by: John Romita, Jr.
And now we get the next installment of the story, with Hit Girl trying really, really, really hard to be normal for the sake of those who care of her, and Kick-Ass trying to start his very own Justice League of sorts. I never realized this while reading the first eight issues of Kick-Ass, but thanks to the dvd commentary of the movie adaptation, I learned that the artists don't use full blacks for the issues, which goes a long way in explaining why the coloring of this series is so sharp and vibrant. Obviously, I'm continuing with this series, it's fun and blasphemous in its own way, and anything with Hit Girl is more than worth following.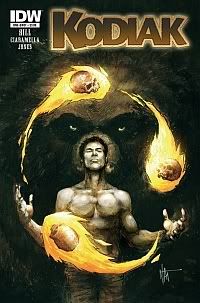 Kodiak
Stand Alone
Written by: Joe Hill & Jason Ciaramella
Illustrated by: Nat Jones
This one shot is a neat little story that's both an adventure story (how a man got his scars) and a love story of sorts. I really liked the art, though there were a few panels where 1) I couldn't make out the action and kept blinking at it until it made sense and 2) I had trouble distinguishing characters from each other. But the story itself is short and sweet and to the point in terms of a bit of irony, with an ending that makes you wonder how much of the story is B.S. and how it became a love story to begin with. Still, lovely art, and a good one-shot to pick up.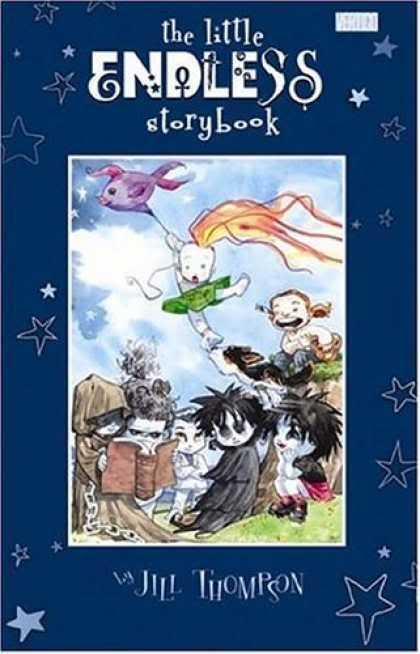 The Little Endless Storybook
Stand Alone
Written & Illustrated by: Jill Thompson
This is actually more of a picture book, with the story on one side and the lovely, colorful illustration on the other. It's cute: it's a tale of how Barnabas loses the Princess Delirium and visits each of Delirium's brothers and sisters to find her. Also, he's being stalked CONSTANTLY by something that's JUST behind him…
If you're a Sandman fan and enjoyed Delirium, you might want to pick this up. It's cute and fun, but it's nothing hugely memorable.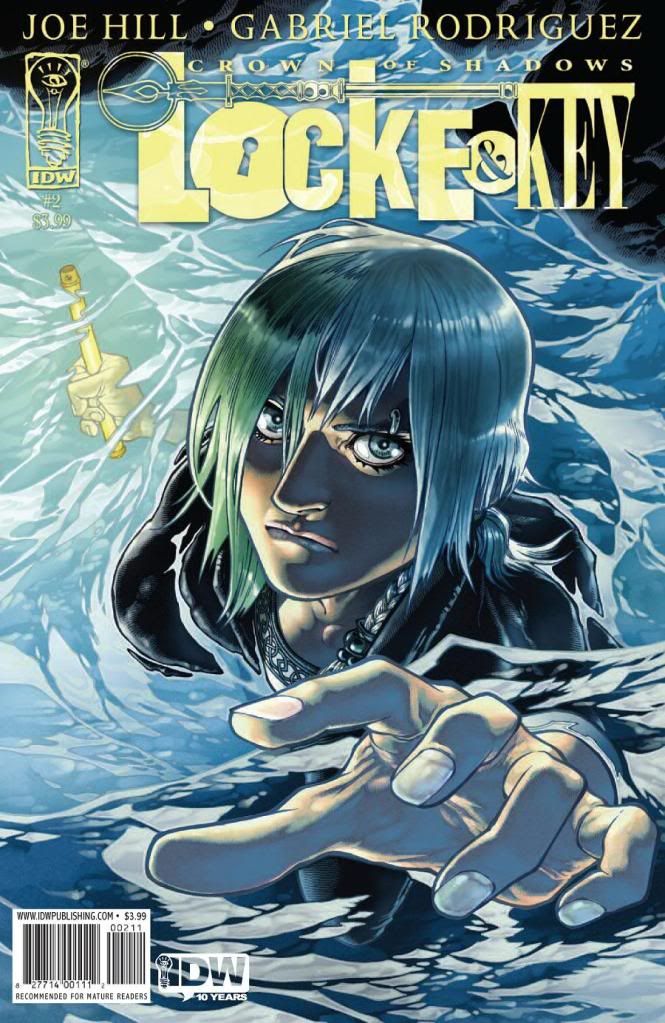 Locke & Key: Crown of Shadows
Issues 2-6
Written by: Joe Hill
Illustrated by: Gabriel Rodriguez
I actually thought the Locke & Key series would end here, but it doesn't, actually. I must've originally gotten bad information, but whatever the case, it's a good thing it didn't end here, as it was the oddest arc in the series so far and didn't do much to tie up any loose ends. Rather, we see a lot of character development, some cool and disturbing keys, and we see Zach take more ambitious steps to get what he wants. It's an odd arc, but again, it focuses very much on character and remains quite fascinating.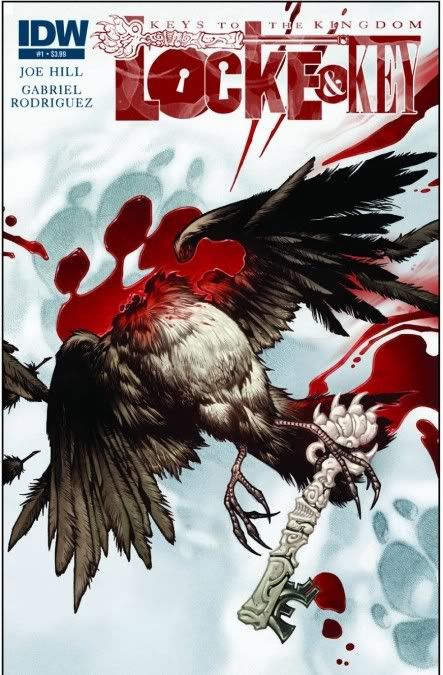 Locke & Key: Keys to the Kingdom
Issues 1-3***
Written by: Joe Hill
Illustrated by: Gabriel Rodriguez
This part of the series is getting odder and odder. Writer and artist are getting a little more creative with the narrative and art. The first issue had hurt my brain a bit in that the art kept changing styles depending on whether or not we were seeing the story from Bode's POV or not, and sometimes, someone would be imagining what was happening, which was quite jarring when the reader is brought back to reality. At any rate, I like this series, and it's cool to see how character-driven it is, but I do wish a little more progress would be made with the overall story. We'll see how it goes!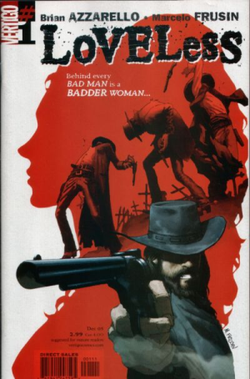 Loveless
Issues 1-21
Written by: Brian Azzarello
Illustrated by: Various Artists
I'll be honest, this series went through issue #24, but it was cancelled, and my husband told me that issue #21 pretty much wrapped up the major storyline, so I felt comfortable stopping there. And in truth, I can see why it was canceled despite critical acclaim. Very slow paced, with dialogue broken up frustratingly between panels, and action that didn't always seem to follow through, which made me question what I was seeing on the page. Some of those questions ended up being answered, though there are some things I'm stewing over in terms of characterization and who betrayed who and at one time. So while issue #21 did seem to wrap up the major storyline, I can see the threads Azzarello was going to use to keep the story going, because there's more answers to be had. I don't know… this series didn't work too well for me. For the reasons mentioned above, and from the fact we're never firmly grounded in one person's story, but rather many, and then there was the rotating door of artists, most of which had styles I really didn't care for. Oh, and then when the men of the series often resembled one another, it made it difficult to know who was who. Anyway, didn't work for me.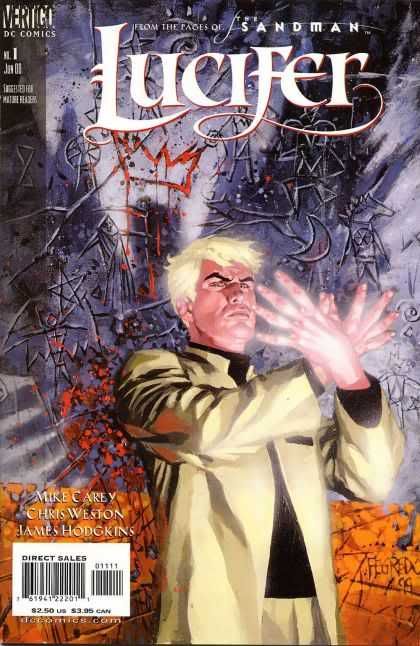 Lucifer
Issues 1-75
Written by: Mike Carey
Illustrated by: Various Artists
This series has been an interesting experience to say the least. I came into it on a high, having loved Sandman Presents: Lucifer: The Morningstar Option, so I couldn't wait to see where Carey took his tale. What I ended up getting was a real mix of highs and lows, with pacing that sometimes felt a little too slow, some seriously fantastic female characters, and a great ending. Who knew? Lucifer is structured much like The Sandman in that it's a long arc split between 75 issues, and frankly, while you could easily read Lucifer without The Sandman under your belt, I think you'll have more fun if you've read Sandman first, simply so you recognize the cameos and aren't wondering what the hell Carey's up to. That said, it's not necessary, but it is a perk.
My mixed signals on this series are all over the place: some characters I started out loving and ended up hating by the end; then some characters I started out hating I ended up loving by the end. Then there's the characters who simply endeared themselves to me. Story-wise, some of the best moments of the entire series were the stand-alone issues which had little to no bearing on the overall arc, but I have to say, the overall arc has me a little confused: clearly it's a story that's been well-planned and thought out, but I suspect I'd need to re-read this series again to really see how cause-and-effect plays a part. Because even though the ending was fantastic and tied up lots of loose strings, there was a certain lack of impact when considering whether or not certain elements pushed certain events into motion. And that's all I can say without spoiling you. The art, for me, was just as uneven. With such a long-running series, I understand you can't have the same artist for every arc, and that once in a while you'll want a guest (it's what Sandman had to do), but I disliked the art more often than not, and there were some styles I outright hated, which made me like the stories less and less. Can't name names or issues because I've been reading this series over the course of a few months, but with the art, your mileage may vary.
But three cheers for some fantastic female characters: Mazikeen and Elaine in particular, and here's a tip to my favorite cherubs, Gaudium and his sister Spera. The last two issues are especially powerful, and I really like the role women play by the end of the series. I was pleasantly surprised, and that in part made this series worth its while (to say nothing of the whole notion of free will versus destiny and the limits of creation and all that jazz). It's a good series and worth checking out, but read Sandman first, then find Sandman Presents: Lucifer: The Morningstar Option next, because if you don't like that mini-series, I doubt you'll get much out of the this much-longer arc.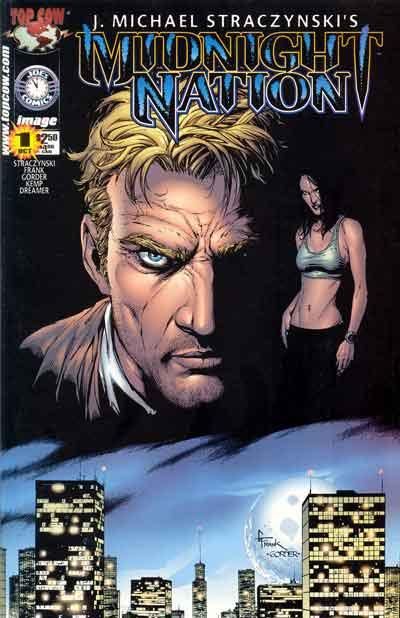 Midnight Nation
Issues 1-12 & 1/2
Written by: J. Michael Straczynski
Illustrated by: Gary Frank
There's a lot to this series to love: a man who loses his soul and must travel in a shadow world (consider it a parallel world) to our own in order to get it back. And while the story wrapped itself up really neatly, sometimes I wish it had explained a little bit more rather than let the reader assume. The preaching grated on me a bit (and I don't mean preaching in the pulpit sense either, but one character gets on his soapbox and goes on and on), because even though it seemed like it might contain useful information, my brain wanted to tune it out. And while there were some seemingly inconsistencies in the stories (the Walkers really didn't attack David and Laurel unless the latter started it? Really?), the story delivers some yummy surprises with the ending. I wish the series had been a tick longer though, for the sake of character development, but overall, it was good. Note to readers: I don't recommend reading the issue #1/2 until after you finish the series. Definitely don't start with it, as it won't make sense, but get the main story first before this self-contained adventure (the story in the 1/2 was good, but I really didn't care for the art).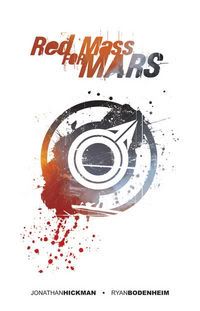 Red Mass for Mars
Issues 1-4
Written by: Jonathan Hickman
Illustrated by: Ryan Bodenheim
I've been interested in Hickman's work ever since reading The Nightly News, but his series since that one have had one fatal flaw: fascinating premises cut WAY too short by the issue run (and, in this particular case, WAAAAY too much time between issues). The story here is interesting, kind of a sci-fi/superhero utopian nightmare, but it's too rush, too fast, and I end up never caring about the characters and never really understanding the story itself. Some moments stick out to me, but I wish Hickman would've taken more time to really develop the tale and the characters, because while the art was lovely, everything felt squished and I was constantly left with the feeling that I'd missed something.
The Sandman Presents: Bast: Eternity Game
Issues 1-3
Written by: Caitlin R. Kiernan
Illustrated by: Joe Bennett
When I discovered my hubby had this, I had to read it ASAP. I love cats, and Bast certainly caught my eye in The Sandman series, let alone when I studied ancient art. The story is good. Several parts made me cringe (in a good way), and I could stop reading after the first issue, so I read all three in one sitting. Certainly, I was kind of rooting for Bast even though it turned out what Bast had in mind was more of an apocalypse than a non-violent spreading of the word, so I felt sorry for her. I understood why she was so terrified of fading, and yet, for something that was created from humanity's imaginations, it makes sense that fading would be her fate (this is not a spoiler, btw). Bonus points for referencing The Sandman issue #18: "A Dream of a Thousand Cats."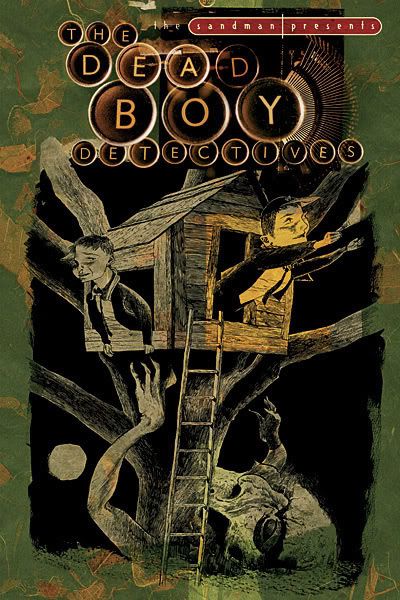 The Sandman Presents: The Dead Boy Detectives
Issues 1-4
Written by: Ed Brubaker
Illustrated by: Bryan Talbot
First thing I want to say: I rather hated the art. It made the dead boys themselves look far too feminine in the face, and that was distracting. The mystery itself was rather quaint, especially how it tied into the Sandman series in terms of a familiar face other than the dead boys themselves (actually, there were a few familiar faces here), but the tale, too, was a little predictable. Loved the cover art though.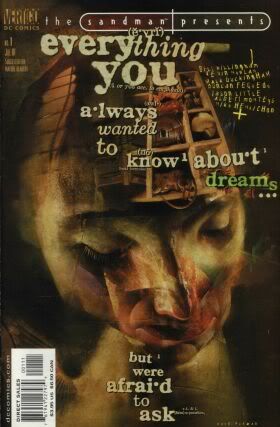 The Sandman Presents: Everything You Always Wanted to Know About Dreams But Were Afraid to Ask
Stand Alone
Written by: Bill Willingham
Illustrated by: Various
A humorous one-shot that asks various questions (why do some people dream in color and others in black and white? Where to recurring dreams come from? Etc.) and presents a shot comic story to explain how such things occur, all of which featuring characters from the Dreaming. Fun, yes, and cute, but the whole movie-production shtick wore thin after each little vignette. Cute though, and it has a GREAT cover (but the cover doesn't truly convey the mood of the piece, so fair warning).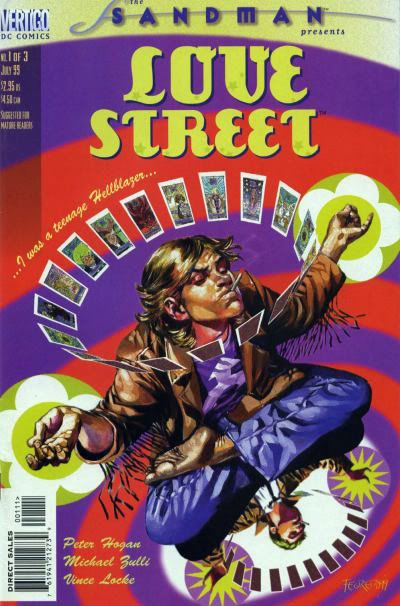 The Sandman Presents: Love Street
Issues 1-3
Written by: Peter Hogan
Illustrated by: Michael Zulli
This mini-series features John Constantine, but he isn't the one who pulls the story together, it's Ollie, the rabbi, a character I've never met and don't know if I'll meet again. At first, I didn't care for this. The art was meh and I kept confusing male characters with dark curly hair, but the final issue really pulls the tale together in a touching way. It takes place while Burgess has Morpheus kidnapped, and it's what happens when one of Morpheus's own tries to rescue her master. The last issue is what made this work, as it reveals the story to be something of a love story, and it's handled both well and unexpectedly.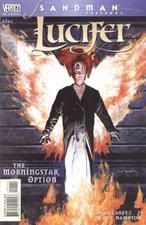 The Sandman Presents: Lucifer: The Morningstar Option
Issues 1-3
Written by: Mike Carey
Illustrated by: Scott Hampton
Now that I've read The Sandman, there's a whole HELL of a lot of spin-offs, and one of the ones I was most interested in was Lucifer's. The Sandman Presents mini-series is kind of a prequel to the series itself, and I have to say, I rather liked it. Carey continues Gaiman's ability to blend multiple religions and mythologies into a compelling story without it seeming hokey, and the story here, while simple, is rather effective, and while I ponder the nature of the voiceless ones in relation to Desire of the Endless, I rather liked this story (and the art, for that matter). Worth the read, IF and only if you've read The Sandman in its entirety.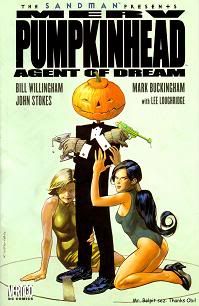 The Sandman Presents: Merv Pumpkinhead: Agent of Dream
Stand Alone
Written by: Bill Willingham
Illustrated by: Mark Buckingham
I wasn't planning on reading this. Based on the cover alone, it just looked really cheesy and silly, but then I read a summary (someone steals dreaming sand from the palace and Merv has to get it back) and I thought I'd give it a shot. What we really get is a kind of James Bond nod/parody, in that Merv thinks VERY highly of himself and his abilities, but that contrasts with what he really does and/or how people really react to him, so it ends up being a lot of fun. Still scratching my head over Merv's apparent success with the ladies (I can't look at this guy without thinking of the Headless Horseman), but it was a fun read, so I'm glad I didn't judge the one-shot by its cover. And note about the cover: he's not holding a gun, but rather a WATER gun. Very cute!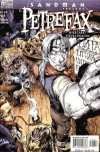 The Sandman Presents: Petrefax: Travels in Malegrise
Issues 1-4
Written by: Mike Carey
Illustrated by: Steve Leialoha
My husband really enjoyed this particular mini-series, and I was intrigued because Petrefax's story in The Sandman was interesting: he was cut off from revealing something VERY important by his master. So I'd hoped this story would be about that something important. It wasn't. The tale focused on Petrefax as a Journeyman, whose travels led him to discover a woman who was betrothed to a murderer and when she sought out proof of her claim, her fiance tore her soul in two, and her body appeared as though dead. Petrefax soon learns her secret and promises to help her, and the story that ensues is interesting, involving gypsies and magic and such, but really, not my favorite. I didn't care for the art (Petrefax looked MUCH more handsome in this mini-series than he did in The Sandman, a change I found hard to swallow, because the character originally looked corpse-like himself), and the lettering made this book a strain to read. The font was thin and tight, and while I understand why, as there was a LOT of writing to get through, it didn't make my reading experience very enjoyable.
The Sandman Presents: Thessaly: Witch for Hire
Issues 1-4
Written by: Bill Willingham
Illustrated by: Shawn McManus
So Thessaly wasn't exactly my favorite character from The Sandman series, and the only reason I read this mini-series was because my husband dug out all of the Sandman Presents stories he could find so I agreed to read them. And honestly, I wasn't all that impressed with the first issue. Thessaly is drawn to look more like Lara Croft in terms of her figure, and that just doesn't appeal to me, especially considering part of her appeal was that she was so asexual in The Sandman series (forgetting a certain plot point, but that's what made the plot point so shocking). At any rate, the story picked up with the second issue, and I liked the resolution of the series. Thessaly's an interesting character, I'll give her that. I like her no-nonsense approach and her morbid humor. The story itself has a funny ending, but overall a kind of noir-ish feel in terms of the narrator, who's a ghost.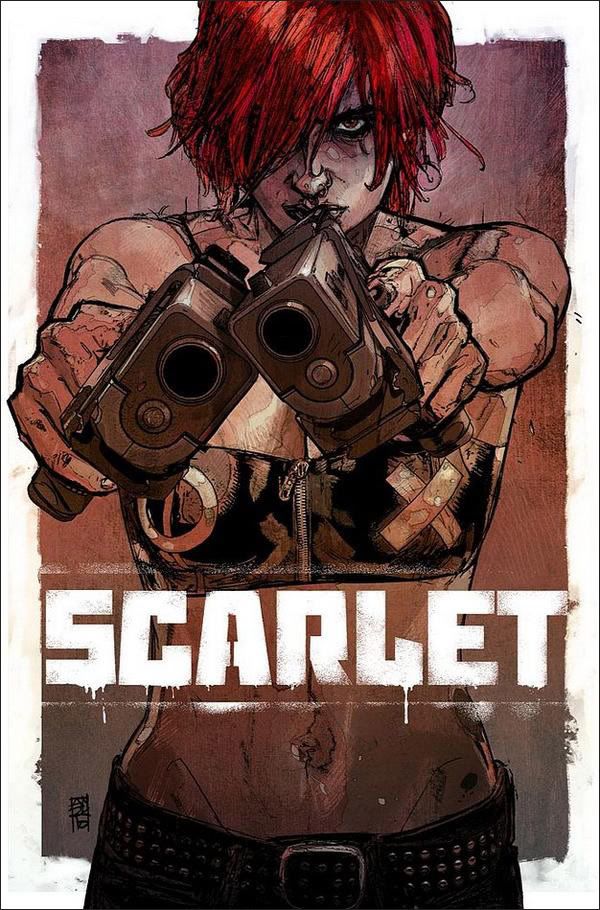 Scarlet
Issues 1-3***
Written by: Brian Michael Bendis
Illustrated by: Alex Maleev
Oh, I think this is my new favorite series! For starters, I'm loving the art and its coloring. The paneling does some fascinating things with the passing of time, and I love how the story breaks down the forth wall and has our heroine, Scarlet, talking directly to the reader and imploring the reader to be a part of the story, to take action. The story itself is stark and violent, but in a way that both shocks the reader but allows the reader to sympathize with the heroine, who is causing a great deal of violence. I love this girl, and wish more heroines who have their very own series in fiction (I'm looking at you, urban fantasy) were this kind of gritty.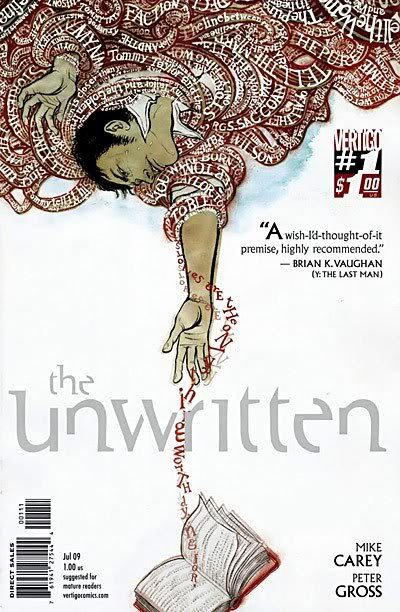 The Unwritten
Issues 1-20***
Written by: Mike Carey
Illustrated by: Peter Gross
Talk about a rich series. I mean, really rich. This series should not only please regular comic readers, but those literature geeks as well, because there's so many nods and allusions to literature (British, American, and everything in between) that it's not even funny. Even better is how the story nods to current trends in fantasy and science fiction without making fun of them. Hell, the basis of the story is based on Harry Potter and the fan base that surrounds it, using the fictional Tommy Taylor and extrapolating the series in such a way to show the pure devotion and craze for a series that goes on even longer than the Potter books have. What happens when the famous author penning these tales has a son with the same name? What happens to the son, especially when the public turns against him? What happens when the father (the author) is far more than he appears? And what happens when fictional characters come to life, or when you think you are one? It's a great series, one that isn't served by speed-reading through the pages. Some issues are outright fantastic with their creativity, and all issues are delightful in their own way. I'm digging the art as well, but my favorite part has to be the flying cat.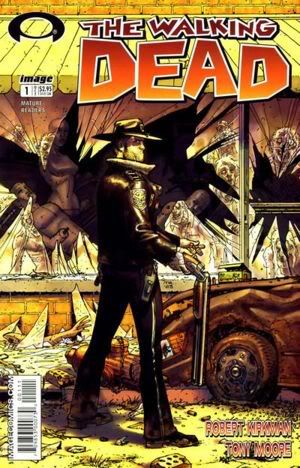 The Walking Dead
Issues 1-79***
Written by: Robert Kirkman
Illustrated by: Tony Moore (1-6) & Charlie Adlard (7 +)
Who hasn't heard of this series by now? Thanks to AMC's adaptation, The Walking Dead is everywhere. In a nutshell, it's not a story about how to survival the zombie apocalypse (thought that's part of it), but rather, it's a story about how monstrous humanity can become when faced with actual monsters. The answer is, pretty damn monstrous. There are scenes and sections of this comic which are outright horrifying, from both the action and from the implied question of what it means that the author is actually going this far. While everyone harps about the difference between author and product, one always must wonder about what fuels an author's choices. In this case, minorities aren't really treated well, and tend to suffer more extreme violence than the regular white man. Though to be fair, there's plenty of violence to go around, and the best characters in the series are female, black, and Asian. I'm not harping on this to say the author has some suppressed hate he needs to deal with, but when you're reading these issues all at once, it's hard NOT to stop and wonder. I enjoy the series though, but these questions are tucked away for a time when things get REALLY out of control and I need a reason to stop reading. But until that day comes (if it ever comes), it's a pretty fascinating series. Sure, it's flawed. Very, very flawed. Story arcs get rushed through, and sometimes the melodrama is a bit much, but the story is what it is: people trying their best to stay human when humanity has broken down in shambles all around them. It makes sense that sometimes, we feel like we're stuck in weird mashup of soap opera and horror story, but so far, it works. That said, I've got my ideas on where the hero of the tale, Rick Grimes, is gonna end up one day. I won't say so here, but trust me, I've got my theories.
Of course, this list DOES NOT include the graphic novel collections I reviewed during the year. For those reviews, just check out the links below:
Brian Azzarello: Joker
Mike Carey: The Sandman Presents: The Furies
Neil Gaiman: Death (The Absolute Edition)
Neil Gaiman: The Sandman (The Absolute Editions)
Neil Gaiman: The Sandman: Endless Nights
Greg Rucka: Batwoman: Elegy
Thanks to my 1 issue a day resolution, I not only surpassed my goal of 365 issues in a year, but reached just over 400 completed issues, which is pretty awesome.
Comic readers: what'd you read this past year? What did you like? What DIDN'T you like?