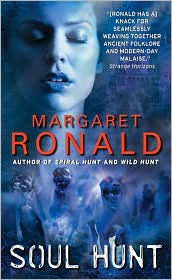 Soul Hunt (2011)
Written by: Margaret Ronald
Genre: Urban Fantasy
Pages: 291 (Mass Market Paperback)
Series: Book Three
Rating: 8 – Excellent
Disclaimer: free from author for review
Why I Read It: after reading the second installment of Ronald's Evie Scelan series, I was quite pumped about the third, because Wild Hunt had a lot of interesting developments that I couldn't wait to see play out. I was surprised when the author offered me a free copy for review, but in all seriousness, how could I say no? As soon as I received it, I put it in the TBR for immediate reading & reviewing.
The premise: ganked from BN.com: The hunter has become the hunted . . .
Without even realizing what she was doing, Genevieve Scelan has made a bad bargain. The Red Sox fanatic and supernatural tracker known as "Hound" for her extraordinary power of scent wishes she could leave magic behind now that she's eradicated the evil cabal that oppressed Boston's undercurrent for centuries. But now her talent's fading, the local adepts' squabbles are turning ugly, and worse, she's just discovered that she owes a very large debt to someone . . . or some thing. And in the undercurrent, debts are taken very seriously.
Evie has until midwinter to pay up . . . or else. So when she gets a job that might save her—even if she's breaking all her own rules to take it—she can't pass it up. Now, with danger at her back and uncertain allies beside her, she'll trace the very bones of Boston itself to protect both the city and the people she loves.
Review style: what I liked and what I didn't, with spoilers. I nitpick a bit, but that's okay: that's what happens when I take notes.

If you want to avoid spoilers, or if you are NOT caught up on this series, please skip to "My Rating."
Thumbs Up:
I figured out pretty quickly what was happening to Evie, but fortunately Ronald is a smart enough plotter to know that she can't keep what's wrong with her heroine the mystery for the WHOLE book. We're supposed to figure it out, and therefore feel gratified when we learn we're right!
And speaking of being right, in my review of Wild Hunt, I theorized that Evie had unintentionally given up a child to the spirit of the quarry. Woot for being right! Though talk about an odd development regardless. There's a lot of talk about possibility, and we learn really fast that Evie doesn't want shit to do with motherhood, so it's not like she wants THAT back, per se, just whatever soul matter that was stolen from her. And I love how the quarry spirit flips out when Nate attacks it and begs for Evie to intervene. That's a great little moment.
This is both a thumbs up and down, but Rena gets REALLY annoying in this book, always in Evie's face, which would be fine if we knew Evie was TRYING to get into trouble and hide it from Rena, but it's all circumstantial and coincidence, you know? I'm very glad they manage to patch up their friendship by the end of the book, even though it'll never be what it once was.
It's funny, because the whole bit about Evie's role in the Hunt has me wondering. Frankly, I suspect that she was meant to run with them, not from them this whole time, that Nate didn't change their minds. But those Hounds were very convincing about her running from, you know? Perhaps if I read the book again, I'd be able to read between the lines better, but I do hope the goal was always for her to run with, because otherwise, that's twice Nate saves her in the book, and while the scene with the quarry spirit worked quite well, it's not fair if she GETS saved two out of three times, yanno?
At any rate: I enjoy the low-key romance between Nate and Evie. They aren't the most beautiful people in the world, and I particularly loved the moment when Nate's aunt is looking Evie over and insults her appearance, before grinning and saying she's pleased with Nate's choice (essentially). In truth, I'm quite impressed by the cast of STRONG women Ronald has in this series. We meet so many neat faces, good and bad, but mostly good. Maryam, Venetia . . . this is such good stuff! Continued too is the friendship with Sarah, the sort-of maternal relationship with Katie, and frankly, I'm just quite PLEASED. Ronald's work shows you can have your romance and girlfriends too, and that's great.
I also really felt for Nate in this book, in regards to how he suffered from his curse and what he was willing to do to be free of it. Oh, how the skinning scene made me shudder! I put the book down quite a few times during those two or so pages, because it just awful for poor Nate. And making me want to put the book down is, in this case, a very good thing.
Thumbs Down:
Nitpick, emphasis mine: Both arms were still healing from the wounds they'd received a couple of months ago; one was a long slash that I'd inflicted myself in order to draw the Hounds to me, the other a jagged wound that had been the result of drawing the Hounds to me (pg. 36).
Maybe that shouldn't be a nitpick, but the repetition there really stands out to me.
A little confusion on page 42, when Evie has to LITERALLY dig the Horn out of her throat. Besides the EWWWW factor, why was it that earlier, the Horn just magically appeared in her hands? Was it because then, the Hounds wanted her to use it? That's all well and good for logic, but I wish she'd chased that thought on THIS page so I knew why we had to go the gross route this time.
Nitpick, page 147: "This is the undercurrent we're talking, Sarah."
Erm, maybe you're not supposed to end a sentence with "about," and maybe I'm just a wee bit too Southern for my own good, and maybe it's just a regional thing, but I've NEVER heard that phrase uttered without the word "about" at the end. In other words:
"This is the undercurrent we're talking about, Sarah."
I just reads WEIRD and WRONG to be without it, you know?
The scene where Evie gets her gun is odd too. Odd because I'd forgotten she'd even OWNED a gun (or was I even supposed to remember that?) and odd because I'm pretty familiar with gun control laws in terms of conceal and carry permits, and if my memory serves, I don't think Massachusetts (or the city of Boston) would be willing to let people carry without SERIOUS licensing. Clearly, Evie does not have a license, which is probably why Rena freaked out, but regardless, it made me want to put the book down and research the state's conceal and carry laws and to figure out just how illegal Evie was and then wonder why she didn't give much thought to said illegal-ness.
My Rating: 8 – Excellent
That said, I really need a rating between "Like, Not Love" and "Must Read," because the book falls between the two, but closer to must. Frankly, this whole series is a must read for urban fantasy fans who want more female relationships in their stories and, if there MUST be romance, then said romance must be balanced with the story and not become the story (because then, it's paranormal romance, yo). Ronald knows how to deliver, and this latest installment flows nicely with the previous two books, and I'm liking the heroine more and more. It's not certain if there's going to be a fourth Evie Scelan book or not, but if there is, I'll be happy to read it. If there's not, then I will say that Soul Hunt ends with the kind of resonance that works nicely for the end of a series/trilogy, so it's not like I'm dying over here in terms of lack of resolution. The books read well, the writing is solid (save for my silly nitpicks), and it offers a unique view of the urban fantasy genre, one that doesn't focus on fairies or vampires or werewolves, but just simply magic and all the places magic comes from. Also a plus is that this is truly URBAN fantasy: the city is as important of a character as our heroine is, and often, that necessity of setting is so lacking in most UF today. I think Ronald's doing everything right, and like I said, whether there's a fourth installment or not, I look forward to following her writing career.
And no, I'm not just saying that because I scored a free copy. This book was actually on my to-buy list, thank you very much!
Cover Commentary: They changed the style of the art for this third book, and that makes me a wee bit sad, as the previous two covers (see here and here) were quite colorful, not traditional UF covers in the slightest, AND they actually featured the city the story was set in (and believe or not, this series is truly URBAN fantasy because the stories tie quite closely to the city of Boston). The new cover barely shows the city (if you squint, you'll see a historical pic beside Evie's face), they've used a photo for Evie instead of a painted model based on a photo (that's how it looks to me, but I could be wrong about the painted part), and they've changed the font of the title again. I don't know. This cover just lacks that centered theme that's been going on for the first two books, and I sort of miss it. Still, the blues are lovely, and the image of the dogs is a wee bit freaky (though such image would've probably been more appropriate for Wild Hunt, even though the Hounds to play a role in this book too). It's a good cover, but it just doesn't match the first two, which makes me sad.
Next up: Farseed by Pamela Sargent