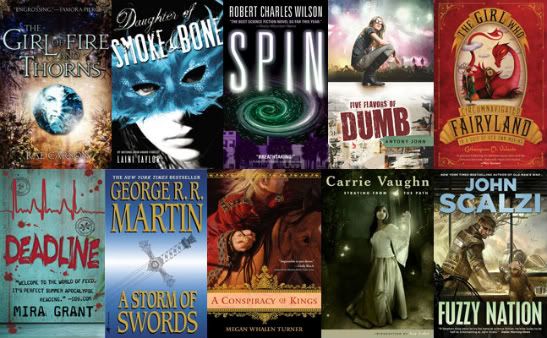 It's that time again! A lot of people compile their best of lists and post them in December, but that always confuses me, because I'm still reading all the way through December, and sometimes, books will sneak in at the last minute. That's what happened last year, with two different titles making the top ten list that I read in December!
At any rate, welcome to the Top Ten List of 2011! I'm following the same format as years past, which means you get a picture for each book, and a copy of the "My Rating" portion of my original review to explain why this book stood out to me.
Here's the usual disclaimers:
1) Ranking is hard, because I read a LOT of books during the year, and I'd love to include them all. As I did last year, I'm ranking the top ten, but you're going to get the runners-up list again. That, however, will be in alphabetical order.
2) I base the list on the stuff I read during the calendar year 2011, which is no big surprise. However, I do need to remind people that what I read in 2011 does not necessarily include the latest and greatest releases OF 2011, so don't expect the list to be made up of only 2011 releases. If you'd like to know what I'm pulling from, you can check out my full 2011 list here.
3) I do cheat a little, if I started a series that I loved the installments equally (or more and more as I read each installment), so if that happens, more than one book may take a slot.
With that in mind, are you ready to see the Top Ten?
1) The Girl of Fire and Thorns (2011)
Written by: Rae Carson
Genre: YA/Epic Fantasy
The Girl of Fire and Thorns came THISCLOSE to getting my top rating of "My Precious," but because I kept debating it, I decided that was reason enough to make it my second best rating (which is still damn awesome), because my top rating should not be any books I debate about. Still, The Girl of Fire and Thorns is a marvelous book that is rich with themes and important issues, yet is also an utterly enjoyable epic fantasy with an utterly capable heroine (weight doesn't matter!). People talk about wanting to have coffee with certain characters, and I'll just say, I'd totally hang out with Elisa. I loved her, and this book is one of the many reasons I postpone my Top Ten list because it snuck in under the 2011 deadline, and my reading year is all the richer for it. It's a book that has an unusual heroine and twists a lot of the genre's expectations for plot, which excited me greatly. It's also one of those that makes me forget I'm reading a YA novel, because the age of the characters is rather irrelevant in light of the story. It's a fantastic read, and I can't recommend it enough.
Daughter of Smoke & Bone (2011)
Written by: Laini Taylor
Genre: YA/Fantasy
This is easily one of my most favorite YA novels of the year (the other, Five Flavors of Dumb, isn't spec fic, so really, there's no comparison). Not only is the writing gorgeous, but the story and world-building is utterly compelling. The character of Karou is an enjoyable heroine who fights to get what she wants, and has a solid head on her shoulders when it comes to love interests. This is no romance-driven young adult paranormal, but a rather mature fantasy novel that begs to have a director like Guillermo del Toro adapt it to film (I'm reminded of Pan's Labyrinth, thanks to the wonderful fantasy imagery of the book). Prague, as well as the Elsewhere fantasy settings, come to life in a delightful way, and the unfolding of the tale, particularly the discovery of Karou's own personal history, is both a delight and a shock. When I had the time to read, I didn't want to put the book down, but when I was forced to put the book down, I was able to savor it. I'm already chomping at the bit for book two, and if you get around to reading this, I'm betting you'll feel the same way once you finish it.
Spin (2005)
Written by: Robert Charles Wilson
Genre: Science Fiction
I honestly am still in awe of how much I ended up enjoying this book. Any book cover blurb or summary online does this book no justice as far as I'm concerned, because I was convinced this wasn't going to work for me, but it did. It's so rare that SF truly evokes a sense of wonder for me that when it does happen, you could knock me over with a feather. I loved the braided story between Tyler's now and his past, and I adored how this book managed to weave in both scientific, religious, and downright moral responsibility for a planet as well as a population without seeming to be overbearing or preachy. The interaction between the trio of Tyler, Jason, and Diane worked for me (in fact, the book gave me some Oryx and Crake vibes at times, but in a good way), and later, I felt a similar glee that I often associate with the reading of Ray Bradbury's The Martian Chronicles. I'm a little sad now that I didn't bite the bullet and break the May tie-breaker, that this book didn't end up winning, because now I'm terrified our official selection will bomb, but for those of you who wanted to read this book, it's well worth your time. I've already got the sequel, Axis, on request at Paperback Swap, and I very much look forward to seeing what else the author has up his sleeve.
Five Flavors of Dumb (2010)
Written by: Antony John
Genre: YA/Fiction
As long as you find the premise amusing and/or entertaining enough to give the book a shot, I think you're going to have an absolute blast with this. I know most of my reading revolves around the science fiction, fantasy, paranormal elements, and while this book doesn't contain any of those tropes, it's a fantastic read and just what I needed to give me a little more faith in YA again. We've got a story that promotes empowerment of its female characters, that passes the Bechdel test in spades, and what teeny-tiny, itty-bitty romance there is doesn't take over the story and become the focus. No, it's a very well done book, and it's one where the heroine's family life really motivates the tale, and her relationships with her family are just as important as those she makes with her friends. Then there's the additional pull of reading about rock-and-roll from a girl who can't hear it, and navigating through Piper's world is just fascinating. This book is well worth the read, especially if you're a fan of YA but are tired of all the same tropes that keep popping up over and over and over.
The Girl Who Circumnavigated Fairyland in a Ship of Her Own Making (2011)
Written by: Catherynne M. Valente
Genre: YA/Fantasy
I always hate making my year-end favorites list because I never know what's going to come out and make me fall in love with it before the year ACTUALLY ends. Valente's The Girl Who Circumnavigated Fairyland . . . is just one of those books, and it's a beautiful little read. There are so many things I loved about this book, and even the illustrations were a joy to look at. This book is the absolute polar opposite of Palimpsest, which was utterly adult in its material, whereas this is utterly childlike, in a good way, but it's ironic, because this book was originally referenced in Palimpsest, before Valente ever wrote it! At any rate, this book certainly deserves a spot on canonical classic fantasy literature along with Alice in Wonderland, Peter Pan, The Lion, the Witch, and the Wardrobe, The Last Unicorn, and, well, that list goes on. But this book deserves to be there, and now it's time for me to read The Girl Who Ruled Fairyland — For a Little While (found here; you can also buy it for the Kindle or Nook), which looks to be a prequel to this book, which is fun. I'm certainly going to get the sequel to this book when it comes out later this year, despite being utterly behind on my Valente reading (no kidding — I've got at least four books waiting in the wings!). This is an easy book to recommend to anyone who has a soft spot for classic fantasy literature, for stories where fairylands are equally magical and dangerous, for beautiful, imaginative prose and ideas.
Deadline (2011)
Written by: Mira Grant
Genre: Horror
So here's the thing: there are roughly six parts in this book (five and an epilogue, if you want to be technical), and there wasn't a single part of the book that didn't have me going "OMG!" or "Oh, shit." To say this book kept me on the edge of my seat is an understatement, but instead of gushing, I want to step back a bit and look at it from a different angle: one of the things I really admire about this sequel is how Grant is answering a lot of questions people had about the first book, Feed, though when you're reading, you don't feel like she just stuck the answers in because she felt she had to. No, the answers read like they've always been part of the story. Want to learn more about the amplification and the Kellis-Amberlee virus? Check. We learn a lot, far more than I expected. Want to know what the deal really was between Shaun and George? Check. Did you feel like the villain in Feed was just a little too black-and-white obvious for your taste? Don't worry, you learn why.
I'm not saying you'll be satisfied with the answers Grant gives you, but I point this out because by way of construction, Grant's got my complete and total trust in her story-telling capability, and I firmly believe that she knows what she's doing with this story and why. I should note that this isn't a self-contained novel by any means: it's the middle book of a trilogy, which means it's imperative that you read Feed first, and that you won't get any real resolution to the overall scheme of things until the third book is over. And that's okay. Deadline ends at a great cliffhanger, and by time you get there, you may be like me and are so overwhelmed (in a good way) with everything that's happened that you need a break to process it all. The only downside is that for a break, I only needed an hour at most, but I have to wait until this time next year for the final installment, Blackout.
The point: whether you liked or loved Feed, I think Deadline more than delivers. But this is not a proper starting point, so run, don't walk, to get your hands on Feed, and then get back to me once you're caught up, okay?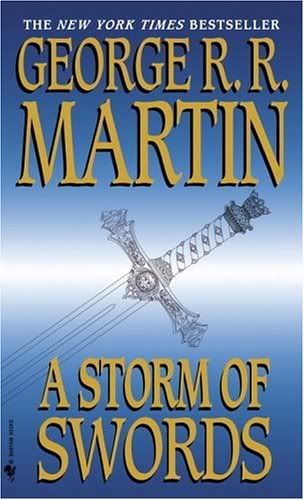 A Storm of Swords (2000)
Written by: George R.R. Martin
Genre: Epic Fantasy
Despite the length of this beast, I paced myself: 100 pages a day, and those 100 pages read at a great pace, especially after the slowness of A Clash of Kings, which rather scared me. But to all of you who promised me that Martin made up for it in A Storm of Swords, I thank you, because you are more than right. There were a billion OMG moments in this book, and honestly, I'm surprised I wasn't spoiled for anything, because what happens in SO MAJOR that you'd think something would've leaked. It hasn't, and for that I'm grateful, because none of the major surprises I predicted, and A Storm of Swords made for a rollicking read. Now the only real question for me is this: do I continue my tradition of one book per year in this series, which means that, if Martin stays on schedule (yeah, right), I'll read A Feast of Crows in 2012 and A Dance of Dragons in 2013, and book number six, titled The Winds of Winter in 2014, which will have me caught up with EVERYONE reading the series? OR!!! Do I just go ahead, bite the bullet and get caught up this year by reading A Feast of Crows and A Dance of Dragons? I'm rather worried that my magical ability to avoid spoilers in this series may not last, so the latter option is really, really tempting, and I can always count on the HBO series (especially if it continues), to refresh my memory for the events leading up to book six, right?
Whatever I do, it's an incredibly engaging series, which real consequences and real surprises and fascinating characters and growth. Glad I finally got around to this!
A Conspiracy of Kings (2010)
Written by: Megan Whalen Turner
Genre: YA/Epic Fantasy
I'm still amazed that I had such an adverse reaction to book two, The Queen of Attolia, because I'm such an avid and devoted reader of the series now. It's a telling sign that while reading an installment for the first time, that I want to go BACK to the beginning and re-read the series all over again from the start, and I definitely want to do that with Turner's Queen's Thief series. Once it wraps up, and I have no idea if this is the last book (surely not!), or if Turner's got another title or two up her sleeve. But I utterly enjoy reading her work, exploring her worlds, and watching how characters interact with each other and how those interactions have so much weight politically for these books. I'm so glad I'm finally caught up on this series, and if there's going to be more, I cannot wait to read it.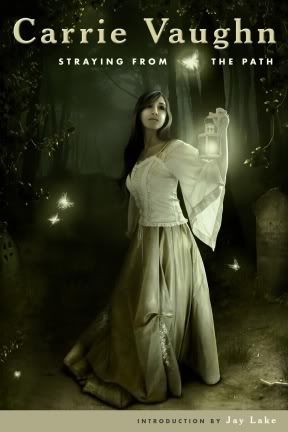 Straying from the Path (2011)
Written by: Carrie Vaughn
Genre: Short Stories/Fantasy, Science Fiction
You'd think I'd already have a taste of how Vaughn's non-paranormal fiction would read, because after all, I've read Discord's Apple, Voices of Dragons, Steel, and After the Golden Age. But yet this collections puts nearly all of her novels (including many of the Kitty ones) to shame. For a long time, I've wondered what Vaughn SF would happen to look like (she's obviously well-versed in the genre, based on her blog), and this book gave me just enough of a taste that I really want her to seriously consider a major SF project next. Hell, a military SF project with a kick-ass heroine next, because not only does SF seem to suit her natural writing voice, but nearly all of her stories are influenced by the military — which, I could be wrong, she was never a part of, but had close family members who were. And she handles it with such ease that I think it's time to retire Kitty and the whole urban fantasy gig and move on to something else.
The collection itself is a lovely mix of SF and fantasy, and you won't find a bit of paranormal or urban fantasy fiction in these pages. Mind you, this isn't ALL of her SF/Fantasy short fiction, which gives me hope for ANOTHER collection in the future, because there's short stories I want to read that I don't want to hunt down. That said, if you've been wanting to try Carrie Vaughn but her novels aren't appealing to you? This is the gateway book. Unfortunately, it's rare, so get your hands on it while you can, but this is by far her best publication this year, and that's saying something, since she's had several. You don't want to miss this, and no, I'm not saying that because I consider Vaughn a fave. I'm saying it because the short stories are engaging, compelling, and definitely worth reading. Like the title suggests, these stories stray from the path you expect Vaughn to take in her fiction, and it makes a world of difference.
Fuzzy Nation (2011)
Written by: John Scalzi
Genre: Science Fiction
Scalzi's prose is always reads at a quick, easy pace. Part of it's the humor, part of it's the ease in which he portrays a scene, and the characters are almost always relatable. The other good thing about Scalzi is this: you like him or you don't (seriously, reading his blog is the best way to tell if you're going to like his fiction). In terms of Fuzzy Nation, I had a great time with it. I worried that I wouldn't be able to fully appreciate the story without having read Piper's original, but now, I'm glad I read this unhindered by the original. This way, I had no expectations and could enjoy Scalzi's vision on my own terms, rather than constantly comparing it to the source material. Don't get me wrong, I'd like to read the source material one day (that's Little Fuzzy, for those of you wanting to get your hands on it), but it terms of enjoying Scalzi's novel, it's not necessary. I had a lot of fun with this and was completely and totally wrapped up in the world and the story. Even though I recognized the shape of how events would play out, I still found myself surprised by HOW things played out, the details, and of course, Jack Holloway made for an entertaining hero/anti-hero as well. And the Fuzzys. How can you not love the Fuzzys? This is the kind of SF that's friendly for everyone, especially those readers who are afraid of the genre. If you've not read Scalzi before, this is a great place to start: I think you'll have a lot of fun.
And now, there's 11-25, in alphabetical order. And you'll notice I've cheated a bit: if the books were part of a series, they're all in the same "slot." But I can do that. I will say, I read some great books this year, and it was really tough to choose the top ten, let alone cut this list down to size, so trust me when I say, you can't go wrong with any of these (depending on your own personal tastes, of course).
So here's the runners-up, in alphabetical order by author's last name (NOT by order of preference).
Aguirre, Ann: Aftermath
Ashford, Barbara: Spellcast
Bacigalupi, Paolo: The Alchemist
Bujold, Lois McMaster: Cordelia's Honor
Butler, Octavia E.: Fledgling
Gaiman, Neil: Anansi Boys
Hoyt, Sarah A.: Darkship Thieves
Jemisin, N.K.: The Broken Kingdoms; The Kingdom of Gods
Martin, George R.R.: Fevre Dream
McGuire, Seanan: An Artificial Night; Late Eclipses; One Salt Sea
Sanderson, Brandon: Elantris
Traviss, Karen: The World Before
Valente, Catherynne M.: Silently and Very Fast
Vaughn, Carrie: After the Golden Age
Walton, Jo: Tooth and Claw
Some interesting observations:
1) In the top ten, only six were actually published in 2011, and in the runner's up category, only eight were published in 2011. That's not quite 50/50 odds, but nice to see there's an even mix between new stuff and older stuff.
2) In the top ten, half of my selections are YA, which really surprises me. This year I was convinced that I was losing my taste for YA, yet I read some really fabulous stuff at the end of the year, and regardless, YA still has a strong pulse. It's just a matter of being rather discriminating in my selection process, and I think I'm getting better at that.
3) Wow. I must've not been very happy with my book club selections. Only one of them made the top ten list this year, and one of them made the runner's up. Don't get me wrong, some titles were close to the runner's up (like Nnedi Okorafor's Who Fears Death and Ransom Riggs' Miss Peregrine's Home for Peculiar Children) but as a whole, my book club selections really didn't stand out for me this year, and I blame all of you!

Well, you nominated and voted on them, after all! That said, I've seen a lot of you with multiple book club titles on your own favorite lists, so that pleases me.
4) Once again, not a single title received my top-most rating (My Precious) nor my lowest rating (Waste of Time & Money). A lot of books come close to the very top rating, but didn't quite grab it. It's funny, because my standard for those book is stupidly high:
I love these books so much I can't talk rationally about them. Seriously. They may not be perfect (seriously, what book is?), but this book has struck SUCH a chord with me that I adore it to pieces and would cry if someone else hated it. Seriously. That's how not rational I am. This is a RARE rating.
However, the next highest rating, "Couldn't Put It Down" popped up more and more. Sometimes I wonder if I'm being too hard, but I feel like there is a distinction between those top two ratings, and when you see the top rating, you'll know it's special to me.
The lowest rating, on the other hand, is a bit of a laugh. My standard:
This is the absolute WORST rating I can give a book, because this book pissed me off. I hated it, and why I didn't stop reading it is beyond me, but I wish I had. I should note to that this is an emotional reaction: the book may not have bad writing (but it might!), but it may have used a plot or a character that is so awful, so tripe, so unbelievable, that I can't believe it got published. Of course, bad writing factors in too. This is a rare rating.
A book hasn't gotten that rating since 2009, but in this rating's case, you'll know it's REALLY BAD if I use it, because 1) I usually DNF stuff that's not working for me and 2) I'm getting better at making my selections. At any rate, I'm sorry 2011 didn't bring the highest nor the lowest ratings I had to offer, but there's always 2012!
Some of you may be wondering: what about my annual top ten giveaway? I'm still getting stuff together for that, and that will be a separate post. In the meantime, enjoy the top ten list, and don't be afraid to talk about your favorites!