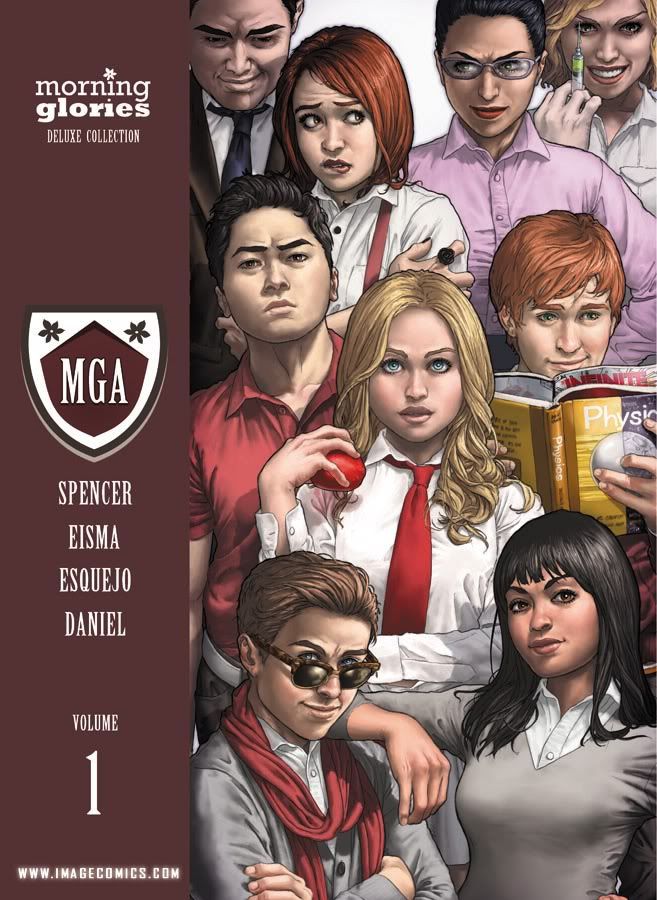 Morning Glories Deluxe Collection: Volume 1 (2011)
Written by: Nick Spencer
Illustrated by: Joe Eisma
Genre: Graphic Novel
Pages: 352 pages
Why I Read It: I'm not completely certain how I heard about Morning Glories, but I'm 99% sure it was because it was compared to Lost (which I love, so shush), which means chances are, I heard about this from Entertainment Weekly's website. All that being said, I'm always up for something that's been inspired by one of my favorite television shows, because so long as it's not trying to BE the television show, that means the writers have a chance to pay homage to what's come before but also avoid the pitfalls as well. And since superhero comics aren't really my thing, I'm always up for a title that's a little different, and Morning Glories promised that difference in spades. As soon as I discovered the hardcover was available, I ordered it ASAP. I couldn't wait to get my hands on this on-going story!
The premise: ganked from publisher's website: Morning Glory Academy is one of the most prestigious prep schools in the country, but something sinister and deadly lurks behind its walls. When six gifted but troubled new students arrive, they find themselves trapped and fighting for their lives as the secrets of the academy reveal themselves!
At last, an oversized hardcover of NICK SPENCER's runaway hit series, MORNING GLORIES. This deluxe edition features every cover, plus sketches, character studies and other extras that no collector or fan of the series will want to be without.
See why critics everywhere have cited MORNING GLORIES as THE book of the year!
Collects MORNING GLORIES #1-12
Spoilers, yay or nay?: Nay. One of the joys about this series (as in any suspense, thriller, WTF? kind of story) is the surprises that jump up along the way. So I will spoil nothing, and try to tell just enough so that those of you who are interested will get a chance to check this out.
The Story: Okay, so what can I say without spoiling this? I've always heard Morning Glories described as a hybrid of the television show Lost and the comic series Runaways. I've not read the latter, and as you already know, the former was enough to pique my interest. And the comparisons are certainly there: an isolated location, a large cast, and a strange series of WTF events that keeps you turning the pages. This hardcover collects the first 12 issues of the series, but Morning Glories is on-going, which means I'm at a total disadvantage in terms of knowing just how well the series is at answering questions while maintaining mystery. That being said, so far, I think it's doing a great job. Issue #2 ends with a WTF moment that issue #9 reveals. You get answers, and then by the end, you get a new question. And I can live with that (hell, I lived with watching Lost live for six seasons, I've got patience). And reading the series in this format means that for whatever answers that are available, you can get them as quickly or as slowly as you want. I started out reading one issue (chapter) per night, and ended up reading two or three at a time.
The characters are interesting. The kids aren't just wallflowers, and all of them have plans or agendas of their own, even if it's a simple matter of survival. And some of them have been scarred deeply, either before they arrive at Morning Glories Academy, or after (or both). And the mysteries, the creepiness is just fun. I don't want to reveal anything, but what's been introduced of the mythology so far really has me engaged, and I can't wait to learn the story's secrets. For every villain, we get another layer, or if not a layer, at least a worthy adversary. By time I finished this hardcover, I was dying for the next collection to be OUT already so I could read it. The only way for me to catch up is to go back and get the individual issues, but the hardcovers are so nice that I think I'd rather just wait and read a big chunk at once.
Also, the foreward by Damon Lindelof (Lost co-writer) is hysterical!
The Art: For the most part, it's solid. Sometimes, I have trouble telling some characters apart, but that was rare and usually just required a firm head-shake on my part to clear it up. One thing that really stood out to me was the coloring, which felt bright and vibrant, something I always appreciate.
My Rating: 9 – Couldn't Put It Down
I was a little worried that this title would be over-hyped, or that its similarities to Lost would be far less satisfying than I'd hoped. But I figured, one hardcover, not a big loss, and it'd give me plenty of time to figure out if I liked the story.
Well, I'm 100% sold, and salivating for the next collection. Everything's here that was promised, and the comparisons to Lost are nothing but a good thing. That being said, I can see how some people would hear that and take it as a warning: this kind of complex storytelling and myth-making always runs the risk of having no payoff, or even worse, a disappointing payoff. I don't know what to tell you. The series is on-going, and this is only the first twelve issues. For me, I'm thrilled to be a part of the ride. The characters all have their own unique personalities, and better still, they act like the teenagers they're supposed to be. The mysteries are all fascinating so far, and answers to some questions have been solely doled out through out the series thus far, all while raising new questions. That's the best kind of storytelling for me — it keeps me on my toes and has my brain actively engaged in trying to figure out what's going to happen. 12 issues in, and I'm completely thrilled so far, and can't wait for more.
Cover Commentary: Good. I like it a lot better than the cover of the trade paperback (seen here), and better still, when you take off the dust jacket, the hardcover has the look and feel of a yearbook. Win!