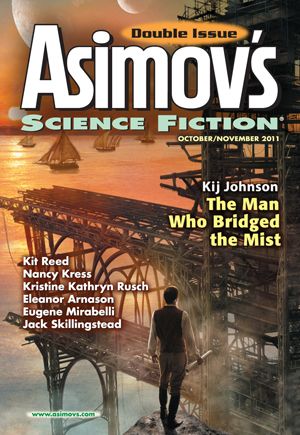 The Man Who Bridged the Mist (2011)
Written by: Kij Johnson
Genre: Novella/Science Fantasy
Published by: Asimov's
Rating: 7 – Good Read
This story really snuck up on me in terms of how quickly I started to admire and then love it. I read this after "Kiss Me Twice," and had to laugh when the first formatting issue I noticed was underlines instead of italics. That, however, was an easy thing to get over, because that's manuscript formatting and I'm used to reading and critiquing manuscripts in that format. Other than that and a few typos, I was pleased to see that Asimov's was able to format this tale correctly.
But on to the tale itself. The titular mist was essentially the only speculative element to the piece, but what a cool element it was. Not water, and not real mist, but a thing of its own character and making, something mysterious and familiar at the same time. I loved how the mist seemed to have a mind of its own, and how there was a constant sense of danger regarding it, which made the building of the bridge that much more perilous.
But there were more tensions besides. Before the story outright shows us how the world will change with the completion of this bridge, those changes were shown in really subtle ways. The Ferry family, for example, will go out of business, which made for an interesting conflict between Kit and Rasali, whose romantic tensions built slowly and inevitably, making them something of doomed lovers, because even if both survive the project (ferrying back and forth from Nearside to Farside is life-threatening in and of itself, thanks to the mist), these two will be at odds. Kit will have another project, while Rasali will be out of a job.
Rasali knows it's coming. She reflects on her profession:
"I am not young; I don't need to prove myself. But I will lose this. The mist, the silence."
There's also the on-going tension and humor of the Big Ones. Apparently, the mist has its own brand of fish, and they're so dangerous that even fisherman stay very close to the shore. But there's the Big Ones that come calling, attracted by thunder, who use to destroy cities entirely until the levees were built. The myth behind these creatures was grand, but also funny. When Kit inevitably sees a Big One for the first time, the joke goes how does he know it's really a Big One? Maybe it's a Medium-Large one, or some such. That humor was the locals way of easing their tension. The Big Ones are something of legend: the locals know they exist, but none have ever truly seen one.
I did not actually take a lot of notes on this one. I got sucked in, but also a large portion of the story is actually about bridge-building, and we flash back between current action and Kit's past as a student, all of which was interesting, and gave the story a rather analytical feel, which prompted me to label this story more as science fantasy rather than straight fantasy or straight SF. I could be wrong about that label, of course, but it's what fit best to me.
Kij Johnson is definitely a new-to-me author, but I found myself easing into her story, world and characters with ease, and the tale ended on just the right note. People interested in this story will be glad to know that Asimov's offering the story for free on their website, which you can access by either clicking the title at the top of the page or going to Asimov's home page. It's a great story, and read rather quickly despite how dense it was in detail. Just goes to show you that density is not a bad thing: it can carry you along, provided the author knows how to navigate the tale, just like Johnson's mysterious mist.